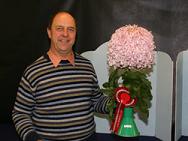 Maybe the UK's smallest Nursery

but

the largest supplier of Large Exhibition Chrysanthemums in Europe

and General UK Gardening Fanatic!!
Now also a supplier of unrooted cuttings of Exhibition Carnations
I specialise in late flowering chrysanthemums and in particular the Large Exhibition cultivars which I grow and supply to growers. I am a grower of over 30 years experience and have exhibited blooms at the National Chrysanthemum Society's Championships continually since 1975. I have achieved consistent success during this period, winning the championship 20 times. During this time I have acquired the finest stock and I have reselected it over many years. [More]
---
---
New from the blog:
I have had a problem getting enough cuttings of the Gigantic familly. There are tree reasons for this. Diapointment with the Gentech stock last year has left me short of stools of Silver Gigantic, Golden Gigantic, Amber Gigantic, Primrose Jessie and Cream Jessie. On top of this the Gigantic stools have not shot as many cuttings as ussual and the third reason. I've had more orders for Gigantic and its sports. No more orders for Ivor Mace or Bev's Snowflake or Rita Rover please.
If you do order the next available week is now 16th March, all weeks before this are full.
Regards
Ivor