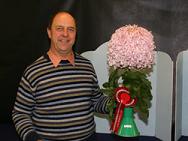 Maybe the UK's smallest Nursery

but

the largest supplier of Large Exhibition Chrysanthemums in Europe

and General UK Gardening Fanatic!!
Now also a supplier of Exhibition Carnations
I specialise in late flowering chrysanthemums and in particular the Large Exhibition cultivars which I grow and supply to growers. I am a grower of over 30 years experience and have exhibited blooms at the National Chrysanthemum Society's Championships continually since 1975. I have achieved consistent success during this period, winning the championship 20 times. During this time I have acquired the finest stock and I have reselected it over many years. [More]
---
---
New from the blog:
My new catalogue is now ready to download. I have all the Gigantic and Jessie Habgood families plus Mark Woolman from cleaned up stock from the micro-proagation company Gentech. This is part of the National Chrysanthemum Society's programme to clean up good established cultivars.
Here's my exhibits at last weeks National Show.